Biblical womanhood–the belief that God designed women to be submissive wives, virtuous mothers, and joyful homemakers–pervades North American Christianity. From choices about careers to roles in local churches to relationship dynamics, this belief shapes the everyday lives of evangelical women. Yet biblical womanhood isn't biblical, says Baylor University historian Beth Allison Barr. It arose from a series of clearly definable historical moments.
This book moves the conversation about biblical womanhood beyond Greek grammar and into the realm of church history–ancient, medieval, and modern–to show that this belief is not divinely ordained but a product of human civilization that continues to creep into the church. Barr's historical insights provide context for contemporary teachings about women's roles in the church and help move the conversation forward.
Interweaving her story as a Baptist pastor's wife, Barr sheds light on the #ChurchToo movement and abuse scandals in Southern Baptist circles and the broader evangelical world, helping readers understand why biblical womanhood is more about human power structures than the message of Christ.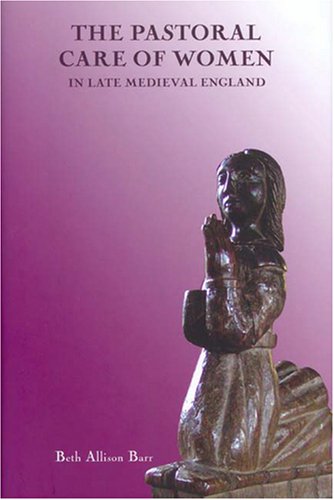 The Pastoral Care of Women in Late Medieval England
The question of how priests were taught to think about and care for female parishioners is the topic of this book. As neither misogynist villains nor saintly heroes, clerical authors of pastoral vernacular literature persisted both in their characterization of women as difficult parishioners and in their attempts to recognize women as ordinary parishioners who deserved ordinary pastoral care. Focusing on the important vernacular writings of John Mirk, his Festial and Instructions for Parish Priests, the author reveals how even a small number of influential sermon compilations, exempla, and pastoral guides could have significantly shaped the perceptions, attitudes, and – perhaps – actions of fourteenth- and fifteenth-century priests. Shedding light on the mental universe of the late medieval parish, this study offers important new insights into the reality of how priests perceived and fulfilled their spiritual obligations to the women they served.
The Acts of the Apostles: Four Centuries of Baptist Interpretation
The Acts of the Apostles: Four Centuries of Baptist Interpretation is a landmark work of research, containing examples of specific ways that Baptists have used Acts in their confessions, sermons, tracts, commentaries, monographs, devotional and denominational literature, speeches, and hymns. Including the entirety of the Acts as translated by Baptist luminary Helen Barrett Montgomery, this commentary beautifully illustrates the diversity of Baptist responses to this book of Scripture, and in so doing, a variety of hermeneutical approaches within the Baptist tradition.