Cancer is terrible. It steals life. We have so many more treatment options available now and so much progress has been made (my father who has been a family physician since 1972 keeps reminding me that medicine miracles are just right around the corner), yet cancer treatments still wear down the body and exhaust the mind.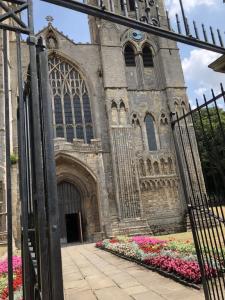 I think maybe because cancer is so terrible and still seems so elusive, we—the family and friend bystanders–don't handle it well. We always want to talk about it. We always want to know stage and treatment. We want to be a part of it, thinking we are helping when we are just adding stress and anxiety. We see the disease instead of the person.

I have never had cancer. I can't speak from experience. But, for those of you facing cancer with family, friends, even yourself, I want to offer two things.
First, I want to remind you of Kate Bowler. Kate Bowler has stage 4 cancer, so she knows what she is talking about. She is also a superb historian who handles her subjects with grace and care. She reminds us that cancer patients don't need our platitudes. They don't need our research or our experience. They don't need to tell us how they are feeling. They certainly don't need us to explain their suffering. As Kate writes, "When someone is drowning, the only thing worse than failing to throw them a life preserver is handing them a reason." People with cancer just need space to keep living, just like you and me. They need space to think and act like humans who have cares and concerns beyond a disease. They do need to know we care, but that usually means less talking and more listening. And sometimes they just need us to drop off dinner or send a funny cat video. Go read Kate Bowler, please.

Second, I want to offer you the comfort of historical prayers. As a religious historian and a Christian, I am drawn to how men and women throughout history have cried out to God. From medieval to modern, Catholic to Baptist, people pray in remarkably similar ways. John Mirk's prayer concluding many of his fifteenth-century sermons in Festial for God to bring us to "the bliss that ever shall last" echoes in our modern "sinner's prayer" for God to forgive us that we might have "Eternal Life in the Kingdom of Heaven." John Mirk's sermons still resonate with us just as the Old Testament Psalms are still meaningful to us. For example, take Psalm 23.

"The Lord is my shepherd; I shall not want. He maketh me to lie down in green pastures: he leadeth me beside the still waters. He restoreth my soul: he leadeth me in the paths of righteousness for his name's sake. Yea, though I walk through the valley of the shadow of death, I will fear no evil: for thou art with me; thy rod and thy staff they comfort me. Thou prepares a table before me in the presence of mine enemies: thou anoinest my head with oil; my cup runneth over. Surely goodness and mercy shall follow me all the days of my life: and I will dwell in the house of the Lord for ever." Psalm 23, KJV

Despite the thousands of years and miles of cultural difference separating us from the Old Testament world, the words of Psalm 23 bring us comfort and peace.

One of my favorite classroom exercises involves a comparison of mourning texts. They aren't exactly prayers, but they are similar textually. The words are by two people separated by a vast gulf of history. The first is definitely not Christian, although much more familiar with the Old Testament world of Job and Ecclesiastes than we will ever be, while the second journeyed away from Christianity for a time before finding his faith again. At least three thousand years separate these men, but the pain expressed by their words echoes in almost the same voice.

The first text is from The Epic of Gilgamesh. The story comes to us from the ancient world of Mesopotamia, preserved on clay tablets in the library of the 7th century Assyrian king Assurbanipal. The cuneiform tablets tell of a demi-god king named Gilgamesh whose story began circulating during the second millennium B.C. The story climaxes when Gilgamesh loses his best friend, Enkidu, to a wasting disease. Listen to how he mourns his friend (and I quote from Danny P. Jackson's translation).

"Birds in the air cry aloud. Fish in the lake gather together near the shore.
What else heeds this sorrow?
The leaves of the trees and the paths you loved in the forest grow dark. Night itself murmurs and so too does the day.
All the eyes of the city that once saw your kind face begin to weep.
Why?
Because you were my brother and you died.
Weep.
Let the roads we walked together flood themselves with tears.
Let the beasts we hunted cry out for this: the lion and the leopard, the tiger and the panther.
Let their strength be put into their tears.
Let the cloud-like mountain…place grief upon its sky blue top.
Let the river which soothed our feet overflow its banks as tears do that swell and rush down my dusty cheeks.
Let the clouds and stars race swiftly with you into death.
Let the rain that makes us dream tell the story of your life tonight…"

I still remember the first time I was prepping the Epic of Gilgamesh for my world history course. I learned British poetry from the legendary Baylor professor Ann Vardaman Miller. I kept thinking about her reciting (from memory, of course) the words of W. H. Auden, standing as she always did in the middle of her circular classroom. Auden was a twentieth-century author and poet who wrote the poem "Stop all the Clocks" for a play he was working on in 1936. It wasn't a serious poem for him, but it quickly caught hearts and minds. Listen to his words about loss.

"Stop all the clocks, cut off the telephone,
Prevent the dog from barking with a juicy bone,
Silence the pianos and with muffled drum
Bring out the coffin, let the mourners come.
Let aeroplanes circle moaning overhead
Scribbling on the sky the message He Is Dead,
Put crepe bows round the white necks of the public doves,
Let the traffic policemen wear black cotton glove.
He was my North, my South, my East, and West
My working week and my Sunday rest,
My noon, my midnight, my talk, my song;
I thought that love would last forever: I was wrong.
The stars are not wanted now: put out every one;
Pack up the moon and dismantle the sun;
Pour away the ocean and sweep up the wood;
For nothing now can ever come to any good."

These texts encapsulate human grief. From the roads of 8th century Sumeria flooded with tears to the 20th century airplane circling in the sky, both Gilgamesh and Auden demand the world around them echo their grief. People in the modern world still love and grieve in the same ways that people did in ancient Mesopotamia. We all cry out in pain.
As a Christian, I believe God hears our cries. It is cathartic just to voice grief and suffering, but as a Christian, I really do believe God listens and cares. We pray, as Christians have always prayed, because we believe God hears.
We believe that prayer has the power to change our circumstances. I love a story from the fifteenth-century book of Margery Kempe (Chapter 13, Book 1). Margery is fearful for her life, as she has just been threatened with burning as a heretic. She is all alone and "quaking dreadfully," as the text reads. So she cries out to God. "Then she prayed in her heart to our Lord, thinking to herself in this way: 'I came to this place, Lord, for love of you. Blessed Lord help me and have mercy on me.'" Two men appear almost immediately and escort her away from the angry crowds. They take her safely home. God then assures her that his "merciful eyes are ever upon you" and his "grace" is "supporting you." Margery's prayers were answered, almost instantly, and her life was saved.

But even when prayer doesn't change our circumstances, the act of praying helps heal our souls. C.S. Lewis is often attributed with saying, "I pray because I can't help myself. I pray because I'm helpless. I pray because the need flows out of me all the time, waking and sleeping. It doesn't change God. It changes me." His character played by Anthony Hopkins in Shadowlands is actually the one who says it. But, even if Lewis didn't say it word for word, I think he would have agreed with it. As he wrote to his brother in 1931, "When you ask me to pray for you—I don't know if you are serious, but the answer is yes, I do. It may not do you any good, but it does me a lot, for I cannot ask for any change to be made in you without finding that the very same needs to be made in me."
Lewis often doubted how much prayer changed the mind of God, but he was certain that prayer draws us closer to God. As he explains in Mere Christianity, "An ordinary simple Christian kneels down to say his prayers. He is trying to get into touch with God…God is the thing to which he is praying—the goal he is trying to reach. God is also the thing inside him which is pushing him on—the motive power. God is also the road or bridge along which he is being pushed to that goal. So that the whole threefold life of the three-personal Being is actually going on in that ordinary little bedroom where an ordinary man is saying his prayers." Through prayer we experience God.

As a historian, I find prayers from the past soothing. They remind me, as do the words of W.H. Auden and The Epic of Gilgamesh, how shared our human experience is. They remind me, like the prayer of Margery Kempe, that people have always cried out to God for help. The faith of women like Margery Kempe in the past strengthens my faith in the present. I am comforted that the God who heard Mary, that young Jewish girl who found herself pregnant with the son of God, is the same God who hears me today. I am also certain, like C.S. Lewis, that prayer draws me closer to God–even in the midst of my uncertainty.

As prayer has drawn me closer to God and given me comfort, my prayer is that it does the same for you.

"I came to this place, Lord, for love of you. Blessed Lord, help me and have mercy on me."
Margery Kempe, praying for protection in late medieval England. Chapter 13, Book 1, Book of Margery Kempe.

"Merciful Lord Christ Jesus, in you is all mercy and grace and goodness. Have mercy, pity and compassion on them. Show your mercy and your goodness upon them, help them, send them true contrition, and let them never die in their sin."
Margery Kempe, praying for the people of the world. Chapter 20, Book 1, Book of Margery Kempe.

"Holy Spirit, come into my heart; draw it to Thee by Thy power, O my God, and grant me charity with filial fear. Preserve me, O ineffable Love, from every evil thought; warm me, inflame me with Thy dear love, and every pain will seem light to me. My father, my sweet Lord, help me in all my actions. Jesus, love, Jesus, love. Amen."
St. Catherine of Siena, fourteenth-century Dominican tertiary, prayer XXV

"Let nothing disturb you,
Let nothing frighten you,
All things are passing away:
God never changes.
Patience obtains all things
Whoever has God lacks nothing;
God alone suffices."
St. Teresa of Avila, sixteenth-century Carmelite nun, Efficacy of Patience

"God be in my head and in my understanding
In mine Eyes; and in my looking
In my Mouth; and in my speaking
In my Heart; and in my thinking
At my end, and in my departing. Amen."
16th century prayer book, Folger Shakespeare Library V a 482, p. 47

May prayers from the past give us courage and faith for the future.

Stay tuned as I return to my Disrupting Christian Patriarchy series next time. I just had to pause and pray for my friends and family, especially those facing cancer.